The quarterly update of the AAA's EV Index shows the Australian new vehicle market continuing to change.
Hybrid vehicle sales grew very strongly in the September quarter, taking market share from both internal combustion engine (ICE) cars and battery electric vehicles (BEVs).
The AAA EV Index online data dashboard, produced by Australia's peak motoring body, collates sales of new light vehicles. The Index shows that in the September quarter 10.31% of new light vehicles sold in Australia were hybrids – up from 6.26% in the March quarter and 7.49% in the June quarter.
ICE market share continued to decline. BEV sales market share fell from Q2 to Q3 (from 8.67% to 7.43%), but it remained higher than it had been in the March quarter (6.77%).
In the first quarter of this year, BEVs outsold hybrids in five out of eight states and territories. In the second quarter, they led in six jurisdictions. But in the third quarter, hybrids outsold BEVs everywhere except the Australian Capital Territory.
Sales of plug-in hybrid electric vehicles (PHEVs) and hydrogen fuel cell electric vehicles (HFCEVs) remain low.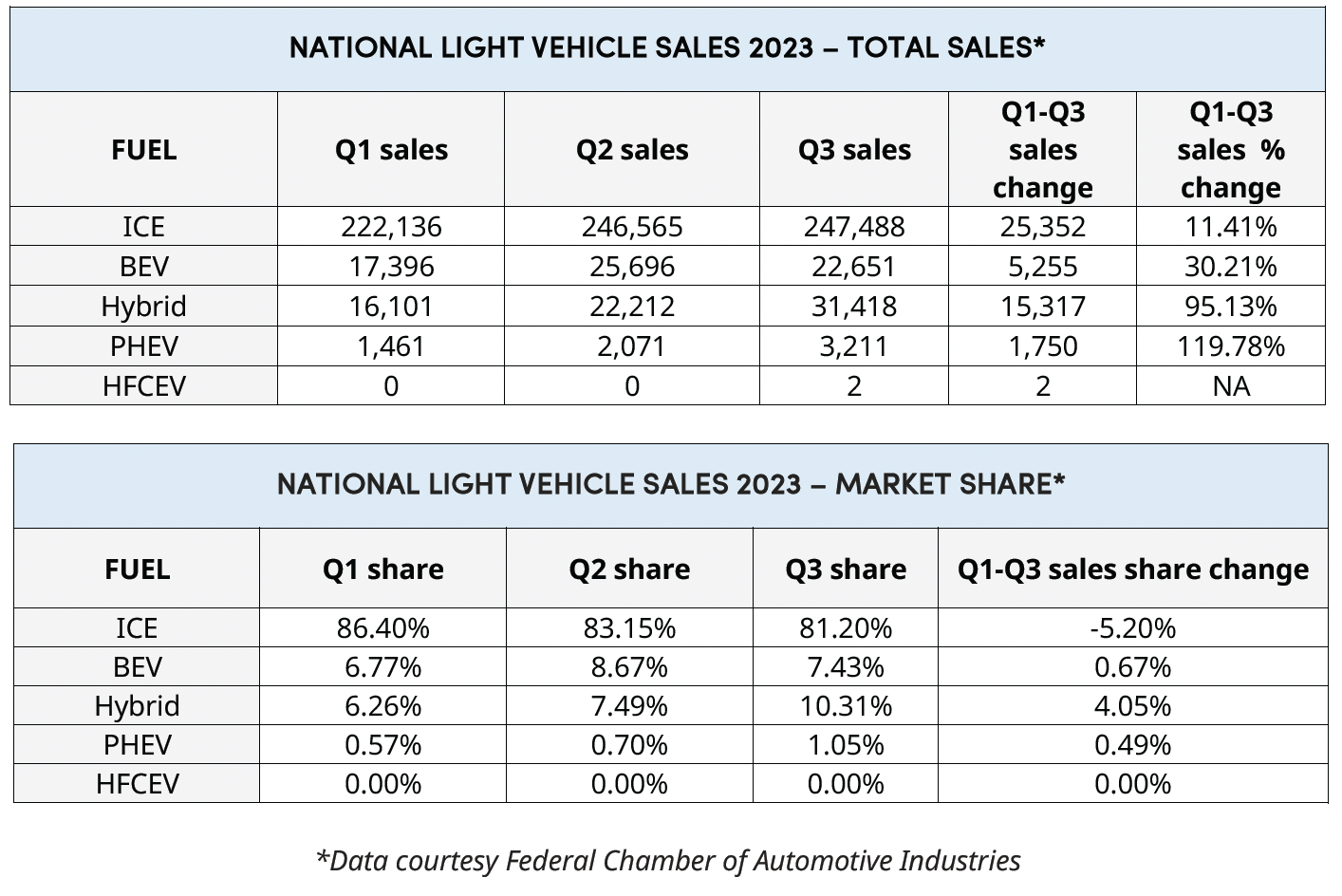 *Data courtesy Federal Chamber of Automotive Industries
BEV SALES
While overall BEV sales fell in Q3, sales in three categories grew from small bases.
Small car BEV sales almost tripled – 1,882 were sold in Q3, up from 473 in Q2 (a 297.89% increase). Large SUV BEV sales rose – 889 sold in Q3, up from 679 the previous quarter (a 30.93% increase). Van BEV sales also rose – 39 sold in Q3, up from 25 in Q2 (a 56% increase).
Twelve BEV people movers were sold in Q3, unchanged from the previous quarter. Sales fell in all other BEV categories.
HYBRID VEHICLE TYPES
In Q3, hybrid sales rose in all jurisdictions and in all but one vehicle class. (Large car hybrid sales fell from seven in Q2 to three in Q3).
Growth rates were very high in the small car and small SUV categories (up 88.35% and 50.95% respectively). Medium car hybrid sales also grew strongly – up 41.98%. But medium SUVs are still the best-selling hybrid category – accounting for 37.34% of hybrid sales in Q3 (or 11,731 of 31,418 hybrids sold). Sales in this category rose by 30.21% in Q3.
BEST SELLERS
Australia's best-selling BEV is the Tesla Model Y medium SUV. The current listed price for 2023 Tesla Model Y rear-wheel drive auto is $65,400. (In Q1 2023, the listed price was $68,900). The Nissan Leaf is a high-selling small car BEV. The current listed price for 2023 Nissan LEAF ZE1 Auto MY23 is $50,990.
The best-selling hybrid is the Toyota RAV 4 hybrid medium SUV. The current listed price for the 2023 model is $42,260.
The EV Index provides unbiased data on Australia's vehicle technology transition. The site brings together information from multiple national, state and territory sources, including information provided by the Federal Chamber of Automotive Industries, which is used with the FCAI's permission.
The Index is intended to enable consumers, businesses, and fleet managers to see the trends transforming the national vehicle market. Its online dashboard covers light vehicles of all fuel types – BEVs, PHEVs, conventional hybrids, hydrogen fuel cell electric vehicles, and internal combustion engines.
For more information, see evindex.au
AAA MEDIA CONTACT: Matthew Franklin, 0411 659 868, [email protected]
The AAA is the nation's peak motoring body, representing Australia's state-based motoring clubs and their 8.9 million members. It is an apolitical and technology-neutral advocate for federal transport policy that improves safety, affordability, and mobility.