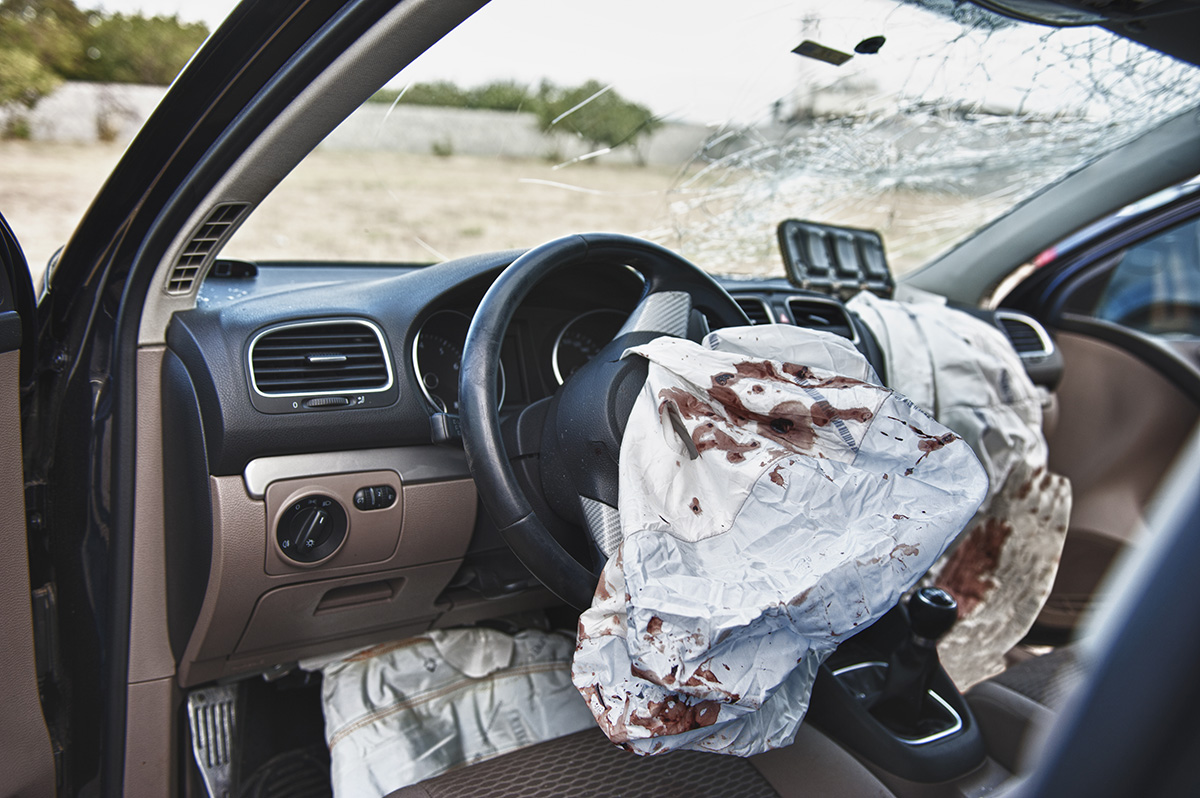 While COVID-19 travel restrictions remain in place and many cars stay largely dormant, another potential threat to human life still looms in some of those cars – a faulty Takata airbag.
The first recall of Takata airbags was announced in 2008 and refers to the potential of some of these airbags to deploy during a crash with too much explosive force. When this happens, the casing ruptures propelling metal fragments through the airbag, possibly causing serious or fatal injury.
The problem led to the largest international automotive recall to date. As they've aged and deteriorated over time, more airbags have been recalled, with an estimated 100 million vehicles affected worldwide, including 3 million in Australia alone.
They are now implicated in the deaths of at least three drivers on Australian roads, the most recent triggering a separate recall.
By the end of March 2020, car manufacturers had replaced 3.62 million airbags in Australian cars. But this means that 230,000 faulty airbags still remain as a potential threat to life and limb.
So concerned is the Australian Competition and Consumer Commission (ACCC), it issued another reminder to have the dangerous airbags replaced. And it has renewed pressure for car brands to complete all replacements by the end of this year.
Some states and territories are making moves to have vehicles deregistered if owners do not take action to have the airbags replaced.
Which cars are affected?
AAA Technical Director Jason Smith explains that there are two priority recalls of faulty Takata airbags. "The first is the mandatory recall affecting a large number of car makes and models which have been recalled in stages based on risk," says Jason.
"To see if your vehicle has a potentially faulty airbag, simply go to ismyairbagsafe.com.au and type in your registration number."
"A quick 30 second check could save you or your passenger from serious injury."
Late last year, the ACCC announced a separate, voluntary recall of Takata NADI 5-AT airbags installed in cars manufactured between 1996 and 2000. It is estimated that about 78,000 vehicles across eight brands are affected in Australia: from Audi, BMW, Ford, Honda, Mazda, Mitsubishi, Suzuki and Toyota.
It is with this last recall that things get complicated.
The NADI 5-AT airbag – to sell, or not to sell?
Jason says that while many of these vehicles may no longer be in service, a substantial number are expected to be registered and still in use.
"These may be a beloved late 90s sportscar, like a Toyota Celica, a faithful Pajero beating about the bush, or one of many BMW 3 series still going strong," says Jason.
The problem is that the faulty airbags in these cars cannot yet be replaced, unlike the other recalls, because the replacement parts for them are no longer available. Owners cannot simply remove the airbag either, as the car may then not comply with minimum safety standards. (Note: The ACCC specifically advises not to disconnect, disable or remove a NADI 5-AT airbag.)
Jason says it is possible that the manufacturer may offer an owner a loan or hire car, reimbursement for alternative transport, or another arrangement. "But it's most likely they would instead offer to purchase the vehicle for a negotiated price that reflects its market value," says Jason.
"Of course, for owners who don't wish to sell, this creates a dilemma," Jason says. "But this dilemma is not for drivers to resolve – they have a right to expect a fair deal."
With the motor vehicle market experiencing its worst conditions in decades, dealers might be especially interested in attracting new sales. However, if you are not satisfied with what is being offered by the dealer, you should contact the manufacturer. If you remain unsatisfied – you should contact the ACCC.
"It is the safety of drivers and their passenger that remains paramount," Jason adds. "If you own one of these cars and have not had the airbag problem rectified, we urge you not to drive it if possible. Consider borrowing a car or using alternative transport options."
For more information, please visit the Product Safety Australia website of the ACCC.