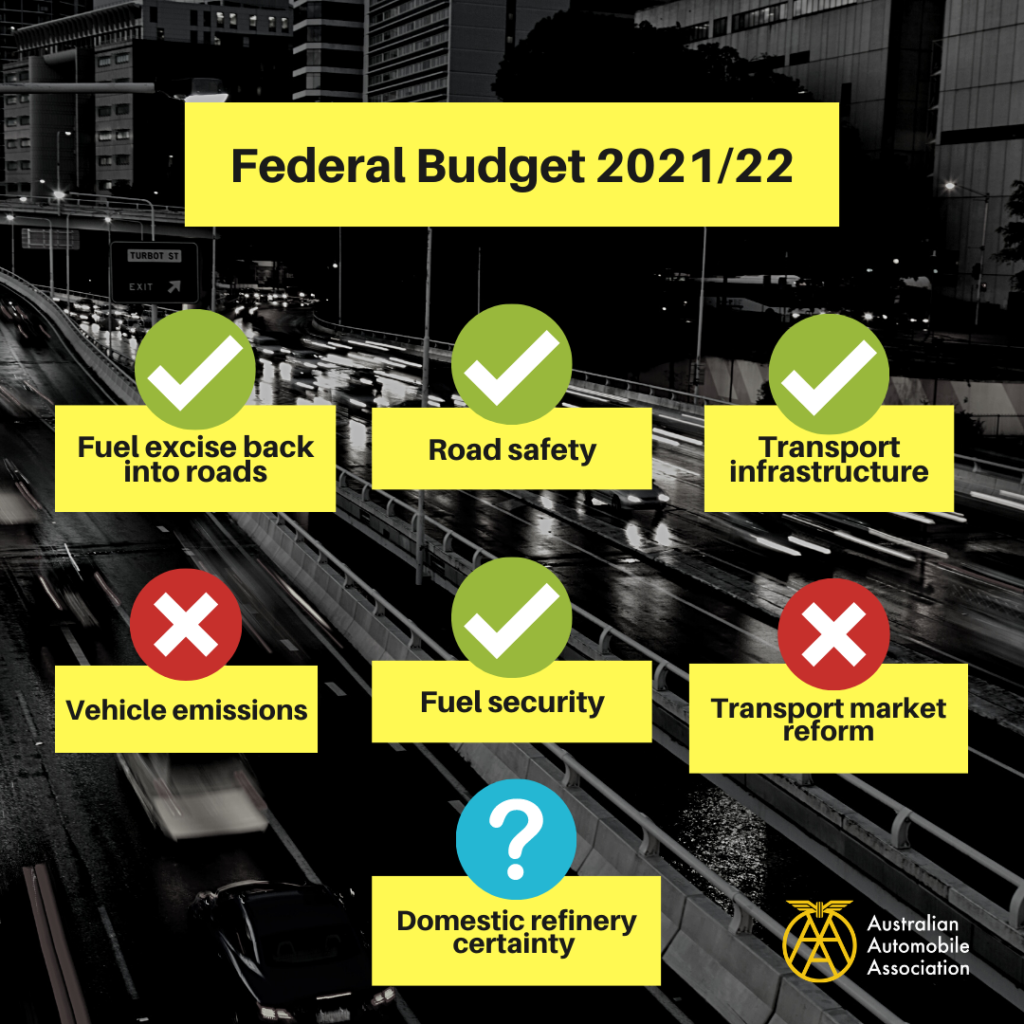 Motorists will once again pay their own way with last night's Federal Budget confirming the government plans to raise more revenue from fuel excise than it will reinvest in roads and other land transport infrastructure during 2021/22.
The nation's peak motoring body, the Australian Automobile Association (AAA) says an analysis of the budget papers shows the government plans to collect $13 billion next financial year in net revenue from fuel excise, which will more than cover the budgeted $11 billion investment in land transport infrastructure over the same period. Motorists currently pay 42.7 cents in excise for each litre of fuel.
The AAA welcomed the Federal Government's financial commitments to road infrastructure and road safety, including an additional $1 billion to extend the Road Safety Program, but reiterated that it was all made possible by motorists paying fuel excise.
The AAA said last night's budget provided immediate wins for road safety, road infrastructure and fuel security. However, the budget failed to deliver reforms to help drive down vehicle emissions; gave no clear insight into securing or funding domestic refinery capacity; and failed to embark on transport taxation reform to identify how roads will be funded into the future as more people embrace zero and low emission vehicles such as EVs and stop paying fuel excise.
Road Safety & Infrastructure:
The Federal and State governments have successfully removed roadblocks that had slowed the flow of road infrastructure funds over the past four years. The budget papers confirm the government is on track to spend more on roads by the end of the current financial year than it had forecast.
Last October the Government committed to invest $7.38 billion throughout 2020/21 on road infrastructure. The Budget shows this target will be surpassed with an investment of $7.77 billion by the end of this financial year, and a further $8.2 billion in the year ahead.
In the longer term, funding for road safety and road infrastructure is concerning.
The budget papers specifically state that from 2021/22 to 2024/25, the Government is predicting a "decrease of 9.7% in real terms" in road transport funding and flags the cessation of the $3 billion Road Safety Program.
Vehicle Emissions:
For five years the Federal Government has been aware that emission claims can be misleading. The Federal Budget missed an opportunity to invest in a program to independently test vehicle emissions by measuring emissions under real driving conditions on Australian roads.
Australians trying to do the right thing by the environment when they purchase a vehicle are not being provided with basic consumer protections to ensure claims about emissions are independently verified under real driving conditions.
The Federal Government cannot have a serious plan to drive down vehicle emissions if it continues to turn a blind eye to ensuring emissions data and claims are accurate. The urgency for an independent 'real world testing' program is compounded with revelations some manufacturers such as Volkswagen had previously deployed technology to cheat laboratory emission testing programs.
Fuel Security:
The AAA welcomes the $50.7 million government commitment to implement and administer its obligations to maintain a minimum stockholding of fuel; along with another $200 million to boost Australia's fuel security. Securing fuel storage capacity is an essential part of national security.
Domestic Refinery Certainty:
The Budget does not contain details on how the production payment to retain domestic oil refiners will be administered or funded.
However, the AAA has previously welcomed a public commitment by the Minister for Energy that the subsidy to refiners will not impact on prices at the bowser for consumers.
Media contact: Jake Smith
[email protected]
0403 466 153